Independent scientists are racing Tuesday to identify what the government is not testing, a secret ingredient in the chemical that Freedom Industries leaked into water supplying of 300,000 people, Nalco's "Crude MCHM'. They are determined to find the ingredient that government is not testing, yet advising the public that the water is safe.
Nearly 1000 West Virginia residents have gone to hospital emergency rooms for poisoning, according to government reports. That number does not include the number of patients seeing their family physicians at clinics. Both numbers continue rising, as residents are left to make their own decisions about using or not using the tainted water and breathe the tainted air.
Locorice odor a big clue to scientists
"Something else surely is in the chemical," retired neuroscientist Dr. Paul Brown in West Virginia toldBefore It's News on Monday. "Pure MCHM has a faint mint odor and residents are complaining of a strong licorice odor."
That simple clue about the licorice smell reported throughout the nine counties most impacted in the present water crisis, is one government officials should have considered and acted upon, but have not, according to independent scientists speaking to Before It's News' Deborah Dupré, reporting from West Virginia.
Organic chemist Dr. Yuri Gorby is working with a team of other independent scientists to analyze water samples provided by locals so they can identify the secret part of Nalco's "Crude MCHM," the part that government officials are not testing, yet telling 300000 impacted residents the water is safe.
Nalco owns the "Crude MCHM" chemical. Eastman is the principal supplier. Freedom Industries is a distributor of the chemical. All are under the Koch Industries of the 1% on Wall Street.
"Eastman is the principal supplier of crude MCHM used in the froth flotation method of cleaning coal," Brown said. "Their chemical data sheet for MSDM is totally inadequate, filled with unknowns about toxicity and environmental effects."
"Presumably, the other stuff in the cleaning solution is responsible for the odor difference, and may be responsible for the harm people are suffering," Brown said.
Dr. Gorby says that government officials are only testing the organic compounds, not the inorganic carbon-based compounds. Four parts are in the 4 MCHM compound, Gorby told Before It's News. His team has several "suspects" they are trying to identify for certain, one of which is used in the fracking process, he says.
"We're trying to find the other 3 and cross-reference them. If these four chemicals are found in fracking, we can make the assumption that people won't know and scientists won't know what to test.
"It is unconscionable that the residents don't have full answers to what is in the water and authorities aren't doing anything useful about it.
Suggested by the author
W. Va. Chemical Leak: Gov. Tomblin Gives Freedom To Residents (VIDEOS)
West Virginia Officials ADMIT ER Patient Surge AFTER Water Ban Lifted 
Baby Burns In W. Va. Poison Crisis
Over 200 West Virginians At State Capitol Demanded Answers (PHOTOS)
Gulf Oil Spill Villain Behind West Virginia Water Crisis Curtain 
Nat'l Terror Alert: What To Do In West Va. Chemical Attack
The Great West Virginia Freedom Industries' Poison Swindle VIDEO 
Scientists Blow Lid Off Why ERs SURGING As WV Water Ban Lifts
W. Virginia Water Burns Woman's Leg (PHOTO) 
Over 200 West Virginians Koch Victims Hospital-Treated For Poisoning 
W.V. Under Chemical Attack! State of Emergency: 9-County Water Ban
Nalco, owner and producer of the dispersant Corexit, also effectively owns the patent and all rights to the frothing process used for the chemical creating havoc in West Virginia, "Crude MCHM," that government has failed to regulate Freedom Industries has had carte blanche to apply, reminiscent of the catastrophic Gulf of Mexico oil scandal.
Nalco's chemical dispersant Corexit is the mixture of compounds secretly applied to the Gulf region since BP and Transocean's April 2010 oilrig explosion and the subsequent ongoing oil volcano eruption.
Nalco applied to the patent office on behalf of the inventors, to use "at least 4-methyl cyclohexane methanol" to clean coal with a froth flotation method. This method separated particles of different sizes by washing them with a frothy solution.
The froth bubbles lift unwanted particles, such as dust, to the surface, where it can then be skimmed off and the particles can be separated from the cleaning solution and discarded.
Disposing the resulting sludge, including the Crude MCHM and other components; and the fate of frothing components that bind to the cleaned coal, raises health and safety questions, similar to those raised about Nalco throughout BP's Gulf oil scandal.
State and federal agencies declared a state of emergency nine days ago and ordered over 300,000 residents in nine counties, one quarter of West Virginia's population, not to drink or use tap water for any purpose other than flushing toilets.
West Virginia residents' complaints and cries for help and information since the poisoned water scandal are eerily similar to those of Gulf coast residents since the oil crime occurred there in April 2010, as seen in the YouTube video below.
Nalco
Nalco was assigned the rights to the "Crude MCHM" frothing process patent, meaning they effectively own it and all rights for using the process.
"Nalco Holding Company is a wholly owned subsidiary of Ecolab Inc.  Corexit, its oil dispersant, was widely used in the BP/Transocean/Military Deepwater Horizon oil catastrophe.
In 1994, Nalco and Exxon Chemical Company announced forming their joint venture, Nalco Exxon Energy Chemicals L.P., to provide products and services to all facets of the petroleum and natural gas industries.
Daniel S. Sanders, previous president of Exxon Mobil Chemical Company, a subsidiary of Exxon Mobil; serves on the Nalco's (now, Ecolab's) board.
On 9 December 2003, the private equity group consisting of the Blackstone Group, Apollo ManagementLP and Goldman Sachs Capital Partners collaborated to acquire Ondeo Nalco Company from Suez SA for US$4.2 billion… In July 2011, Nalco announced a merger with Ecolab, Inc., and it became a wholly owned subsidiary of Ecolab Inc. in December 2011 after the completion of the US$5.4 billion acquisition by Ecolab.
The Center for Responsive Politics documents Nalco Company Political Action Committee financial contributions to political candidates, with 2010 contributions to Judy Biggert (R-IL), Charles Boustany(R-LA), Dan Lipinski (D-IL), John Shimkus (R-IL) and Dick Durbin (D-IL). The CRP also lists Nalco Holding Company's spending on lobbying, including $160,000 in 2010 to Ogilvy Government Relations to lobby on their behalf to the U.S. House of Representatives and the Senate, the Department of the Interior, and the Environmental Protection Agency between April 1 and June 30 of 2010, on 'issues related to the use of corexit 9500 in the Gulf of Mexico oil spill'." (Wikipedia)
"Corexit is a product line of oil dispersants reportedly used to dissolve oil spills. It has been used in BP's Gulf oil catastrophe in attempt to hide the oil.
It is produced by Nalco Holding Company that is associated with BP and Exxon.
Corexit is the mixture of compounds applied in the Gulf region after the April 2010 oil gusher.
Corexit was used in unprecedented quantities during the 2010 Deepwater Horizon oil spill in the Gulf of Mexico. Its use was continued and some have evidence that it is still being used today to hide the Gulf oil from one of BP's wrecked wells in the Macondo Prospect in the Gulf of Mexico. It took months on end for the Gulf residents to learn what was in the toxic brew that was hitting them through water, air and land.
Same holds true today in regards to the chemical poisoning West Virginians.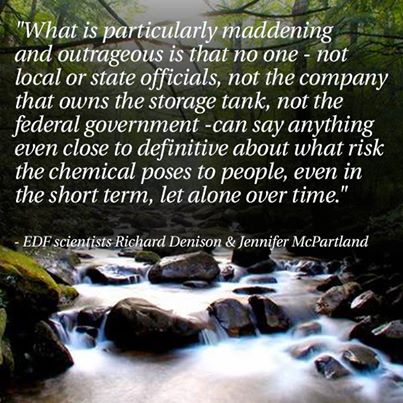 Nalco in the Gulf
In February 2009, Warren Buffet's Berkshire Hathaway increased its holdings to 9 million, making it the second-largest holder of BP oil-related Corexit manufacturing company, Nalco. (1)
Nalco was affiliated with the Argonne Program at University of Chicago, under auspices of the U.S. Department of Energy. Argonne received $164 million in federal stimulus funds in 2009. It added two new executives to their staff, one on NALCO's payroll.
What would eventually come under the public microscope was that BP had tapped NALCO for a world supply of the oil-based dispersant Corexit 9500 to "break up oil spills," (actually to hide oil). Rodney Chase, NALCO Board Member had served on BP's Board with Carl Casale, Executive VP and CFO of Monsanto. (2)  From October 14, 2008 to December 1, 2011, Casale served as a Director of NALCO.
In 2012, scientific research found Corexit increases toxicity of oil in rotifers by 52 times.
"While many Gulf victims, collateral damage of the petrochemical-military-industrial complex (PMIC), bled from all orifices, the PMIC [petrochemical-military-industrial-complex] continued gassing them, combining one of the most carcinogenic substances known, crude oil's benzene, with lethal Corexit. Benzene is a toxin released by fossil fuel oil, lethal enough for public health concern and action even without Corexit." (Vampire of Macondo)
The government claimed that the lethal practice of applying Corexit had ended in July 2010, three months after the carpet-bombing began. By August, however, Gulf Coast residents along the coast reported that Corexit was still being applied. Residents continued to witness the carpet-bombing of Corexit, in some places, even in their back yards.
Not only that, long after government said the spraying had ceased, photographic evidence showed the Corexit dispersant had been delivered to Louisiana in military containers.
"The super weird thing was that there was acres of natural non-toxic [dispersant] rotting away, while there were 176 empty containers of COREXIT 9527A, with barge and boat dispensers right by them," citizen reporter Cheryl Foytlin stated.
BP had bought all of the natural, organic dispersant one manufacturing company had, and ordered much more. The company manufactured what had been ordered, but BP never paid for it, crippling the entire safe dispersant manufacturer.
"Toxic air, water and food posed increasingly serious health risks to all people of the Gulf, particularly pregnant women, the elderly and people with health vulnerabilities, such as asthma and emphysema, as Dr. Gina Solomon, NRDC Senior Scientist had outlined and warned Louisianans and other Gulf Coast residents."[3] (Vampire of Macondo)
Despite a handful of congresspersons, who tried to ban Corexit and carpet-bombing the Gulf Coast and its residents with it, using it was approved in the US by the U.S. Environmental Protection Agency(EPA).  That decision was called into question in 2013 following a report by the Government Accountability Project  (GAP).
The GAP alleged 'devastating long-term effects on human health and the Gulf of Mexico ecosystem' stemming from the use of Corexit. With the military at the helm of the Gulf oil operation, however, attempts to stop the Corexit application were doomed to failure.
Corexit has been banned in the UK since 1988. UK authorities have an approved list of products that must pass both "sea/beach" and "rocky shore" laboratory toxicity tests.  Corexit failed the rocky shore test.
"Where economic imperialism has not worked, such as Iraq and Afghanistan, the PMIC resorted to fabricating false flags for full-blown military action. Gulf coast involvement of the military, including spraying lethal poisoning, might appear analogous to Iraq and Afghanistan. It might be a logical continuation of relentless corporate criminal behavior in coal, gas, and nuclear industries and the financial sector that have acted with government collusion." (Vampire of Macondo.)
As in the Gulf, only time will tell how many West Virginian lives are shortened by today's water crisis. Some scientists have predicted between four million to forty million Gulf Coast residents' lives have been or will be shortened due to the Gulf operation.
"The numbers of birds, fish, turtles, and mammals killed by the use of Corexit will never be known as the evidence strongly suggests that BP worked with the Coast Guard, the Department of Homeland Security, the FAA, private security contractors, and local law enforcement, all of which cooperated to conceal the operations disposing of the animals from the media and the public," say a team of journalists, including Charles Hambleton, Academy Award-winning documentary director of The Coveand Jerry Cope.
That team found that the PMIC was conducting most of the Gulf animal disposal operations under cover of darkness.
Nalco got off scott free in the Gulf oil crime.
Even as the National Academy of Sciences warned about dangers of Nalco's chemical dispersants, during the BP trial in New Orleans,  U.S. District Judge Carl Barbier dismissed all charges against Nalco.
How fracking contaminates ground water
http://jaywilliams7497.blogspot.com/
Older post